Sap literally flows through Brad's veins. As a second-generation wood turner with almost 30 years in the industry Brad continues to push the boundaries of his craft. He has travelled extensively overseas attending conferences and furthering his studies within the world of wood art and furniture design. As a result, Brad has developed a very broad and diverse collection of skills, influences and techniques. In fact, Brad's intimate knowledge of his craft recently garnered an invitation to teach and demonstrate his skills at the highly respected yearly symposium run by the American Association of Wood Turners.
A feature of Brad's works is their ability to transcend any setting. Complementing both traditional and contemporary homes, a number of pieces have also been purchased by collectors from around the world for their private collections and corporate businesses. His five solo exhibitions have all been sold out and he has been a finalist in the Tasmania Design Award three years in a row. Brad's work is also held in many public and private collections including the Design Tasmania Wood Collection.
"My inspiration is drawn from a number of sources such as the Native American Potters, the Japanese Potters and the Chinese Potters for their simplicity and pure shapes. Ideas also come from the surface treatment found in the primitive tribal cultures from around the world. I find nature is the greater teacher when it comes to form, shape and texture.

I've never seen myself as simply a wood turner, rather a wood artist with the ability to create thought provoking pieces be it sculpture, turned furniture or a simple piece projecting pure form."

Brad is passionate about taking wood turning to a higher plain of art and hopes that his teaching at a number of Tasmanian institutions such as the University of Tasmania, Tasmanian Polytechnic and Adult Education will give a new generation the skills to go far beyond the current conservative form. Brad believes that, like any journey in life, for an artist to succeed and find the truth in him or herself they must be prepared to step outside the known world and seek the impossible.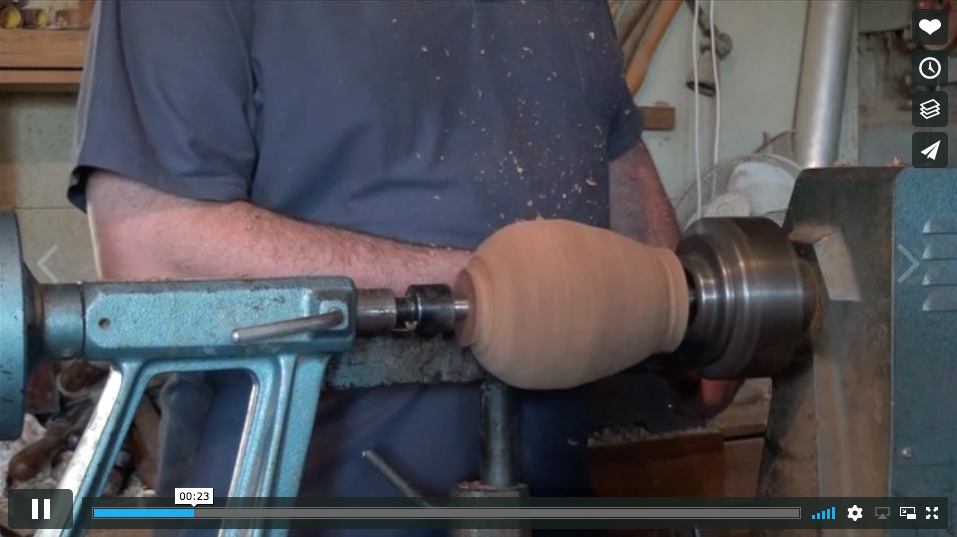 Brad Moss Exhibitions
September 2018 exhibition "Design Tasmania" Launceston
October 2017 exhibition "Ukiyo Gallery" Hobart
March 2013 exhibition "Design Centre" Launceston
June 2007 exhibition "Design Centre" Launceston
October 2006 exhibition at the "Long Gallery" Salamanca Place
March 2004 exhibition at the "Waterside Pavilion" Mawson Place
October 2003 exhibition at "Aspect Design" Salamanca, "Living Artists Week"
October 2002 exhibition at the "Waterside Pavilion" Mawson Place
August 2001 exhibition at the "Old Distillery Gallery" Richmond
July 2001 exhibition called "Fine Lines" of currant work at the School House Gallery
April 2001 exhibitor with the "One Tree Project" Hobart
August 2000 exhibition of current work at the Forestry Commission Gallery, Hobart
July 2000 exhibition of current work at the Royal Botanical Gardens Gallery
October 1997 "Christmas in October" Distelfink Gallery
August 1997 "Craftwork and Wine" Zurich, Switzerland
July 1995 Itami Craft Association Japan "Craftworks in Tasmania"
July 1995 Schoolhouse Gallery "Crossing Waters" Hobart, Tas
Regular exhibitor Beaver Galleries, Canberra, ACT
Regular exhibitor Henry Jones Design, Tasmania
Regular exhibitor Design Tasmania, Launceston
Commissions by Brad Moss
January 1995 Sisters of St. Joseph Mary Mackillop Beautification, presentation gift to John Paul II.
March 1993 Clarence City Council, Document Box, gift to sister city in Japan.
Private commissions for Australian and International collectors.
Publications of Brad Moss
Conference Attendance
Professional Development
2002 Arrowmont School of Art and Craft. Tennessee U.S.A. Intensive course with Clay Foster and Christian Burchard.
1999 Arrowmont School of Art and Craft. Tennessee, U.S.A.Intensive course with John Jordan.
1996 Demonstrated woodturning and carving at AAW Symposium. Greenboro, North Carolina U.S.A.
1996 Six day intensive course with David Ellsworth. Quakertown, Pennsylvania.
1995 Arrowmont School of Art and Craft.Tennessee U.S.A. Intensive course with David Ellsworth.
1995 Arrowmont School of Art and Craft. Tennessee U.S.A. Intensive course with Ron Fleming.
1994 Arrowmont School of Art and Craft.Tennessee U.S.A. Intensive course with Ray Key.
1994 Intensive course with Mick O'Donnell, Hobart
Lecturing
February 2000 to 2015, teaching Woodturning at the T.A.F.E. Collage, Hunter street Campus, in the Applied Arts Department. Courses taught, Bowl Turning, Contemporary turning and surface texturing.
Teaching woodturning, 2010-2011, at the University of Tasmania, Hunter Street Campus. In the Furniture Design Department.
Qualifications
1984-1985 Fine Art of Wood Craftmanship. Hobart Technical College.
2002 Certificate IV in Assessment and Workplace Training